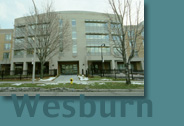 400 The West Mall
Etobicoke ON
M9C 5S1
416-394-3600

Wesburn Manor, opened in 2003, provides care and service for 192 residents. Located in south Etobicoke, this four-storey building has six resident home areas. Two 32-bed areas are located on each of the 2nd, 3rd and 4th floors. These smaller units are designed to provide residents with a stronger feeling of comfort and familiarity.
Residents living on the 2nd floor have access to a rooftop garden. Residents of the 3rd and 4th floors and their families can enjoy balconies in each resident home area. Each area also has its own dining room, lounges and activity areas, and is self-contained. Access to all areas is provided via two passenger elevators located in the building's centre core.
The "Town Square" or main floor lounge is located in this centre core. Residents, families and friends are welcome to enjoy the main floor lounge areas, sit by the fireplace, or have refreshments in the cafè.
Main floor services include the administrative support unit, gift shop, hair salon, volunteer office, activity room, worship centre, community meeting room and support services, such as the main kitchen and laundry.
The care and services we offer
We are committed to an interdisciplinary approach to care. We encourage residents to maintain or improve their capabilities, to maximize independence and quality of life. Resident satisfaction is a priority, and we strive to continually improve care and services.
Wesburn Manor offers a full range of services, including medical care, nursing services, programs and services (e.g., rehabilitation, recreation, spiritual and religious care, complementary care, and art and music therapy), food services, dietetics, housekeeping, laundry, maintenance and administrative services.
We have created special environments for helping residents with Alzheimer Disease and residents who are mentally frail. We also offer short-stay admissions for residents and families who need short-term respite and/or caregiver relief.
Involving families
Families play an important role in decisions made about their family member's care and the day-to-day activities of Wesburn Manor. We offer many opportunities for residents and their families to get involved, through resident conferences, the Residents' Council, family meetings, resident and family satisfaction surveys, and volunteer services.
Involving the community
Volunteers are a vital community link for our residents. An active team of volunteers takes part in many activities to enhance our resident's quality of life.
Wesburn also maintains many partnerships with the community, including regular liaison with other homes for the aged, educational institutions, hospitals, churches, police/fire services and government services. Community agencies and service providers visit Wesburn Manor to ensure that residents have access to services such as dental care and foot care.
Peace of mind
We believe that one of our most valuable attributes is offering peace of mind to residents and their families that care is available when needed, and that each individual's health and well-being are at the forefront of everything we do.
If you are interested in taking a guided tour of our home, please call 416-394-3600.