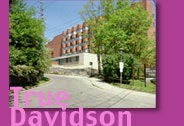 200 Dawes Road
Toronto ON
M4C 5M8
416-397-0400

True Davidson Acres, which opened in 1973, is named in honour of True Davidson, a former Mayor of East York who was a dedicated and energetic advocate for elderly people. Located on Dawes Road, the home is built onto a hill overlooking Taylor Creek Park. Architect Jerome Markson received the 1977 Design Excellence Award by the Ontario Association of Architects for the building's unique design and effective use of landscape.
True Davidson Acres offers a full range of services including nursing, medicine, food and nutrition, administration, building services, staff education and programs and services (rehabilitation, recreation, social work, spiritual and religious care, complementary care and music and art therapy).
The building has changed, the caring continues
True Davidson Acres recently completed extensive renovations to update the entire building. Residents live in 10 resident home areas, each equipped with dining room, living room and recreation spaces. The renovated home features warm colours and comfortable furnishings, just like home. Each of our 187 residents has a Memory Box to decorate with personal mementos. Basic, semi-private and private accommodations have also been designed to enhance each resident's privacy.
Involving families
We believe in working in partnership with our families. The True Davidson Family Circle, which meets monthly, works to address quality of life issues affecting residents, to support family members and to sponsor various resident activities. Our Home Advisory Committee is another way families can get involved.
This committee meets monthly and works closely with the Administrator to support resident programs, and to provide feedback on operational issues and concerns to improve the quality of life of our residents. Other opportunities for families to get involved include resident conferences, resident and family satisfaction surveys and volunteer services. We believe in an open-door management approach, where families are welcome to drop by and talk about their concerns.
Involving the community
Volunteers are important members of the care team at True Davidson Acres. They provide the essential connections with the community that are so important to our residents. Many different volunteer opportunities exist, but no matter what activities volunteers are involved in, they share a special brand of caring that brings our homes to life.
Community Linkages
Each month we host the East York Community Diners Club for approximately 40 to 50 guests and in partnership with Harmony Hall Centre for Seniors, our residents enjoy activities and are provided with transportation to outings and appointments.
Resident commitment
Our community at True Davidson Acres is a dynamic one with residents, staff, volunteers and families/friends busy living life. Residents enjoy the many social opportunities to talk with other residents, learn new skills and develop new interests. By participating in our pub nights, special musical events and other celebrations, residents know how to have fun, in a safe and caring environment.
If you are interested in taking a guided tour of our home, please call 416-397-0400.