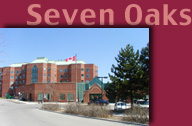 9 Neilson Road
Scarborough ON
M1E 5E1
416-392-3500

Seven Oaks, located in Scarborough, serves 249 residents, including 2 short stay beds. The name Seven Oaks was originally the name given to the farm located at Military Trail and Ellesmere Road. Over time, the area between Ellesmere and Highway 401 became known as Seven Oaks. In 1966 – 67, a subdivision named Seven Oaks was built in the area, and this home for the aged was designed to become part of this new community.
Maximizing quality of life
First opened in 1989, this home takes a multidisciplinary approach to working with each individual resident to maximize independence and quality of life. Seven Oaks offers a full range of services including nursing, medicine, food and nutrition, administration, building services, staff education and programs and services (rehabilitation, recreation, social work, spiritual and religious care, complementary care and music and art therapy).
As well, an on-site child care centre offers unique opportunities for intergenerational programming, and the presence of children is a welcome one for many residents.
Giving families and residents a voice
The home has a Residents' Council, Advocacy Program, Home Advisory Committee and Family Committee. Each of these groups provides opportunities for residents and family members to be fully involved in decisions about their care.
Connecting with the community
A dedicated team of volunteers provides a critical link to the community for residents at Seven Oaks. These volunteers are a core part of life at the home, and can be seen visiting one-on-one with residents, leading social activities, working in the gift shop, and taking part in many other activities to enhance the lives of residents.
Seven Oaks works with organizations in the surrounding community, including the Rouge Valley Health System Centenary Site, the Central East LHIN Community Care Access Centre – Scarborough Site, West Hill Support Services and other organizations that share a commitment to promoting independence and quality of life for older persons.
Since opening in 1989, Seven Oaks has enjoyed a partnership with Armenian Community. Volunteers from the Armenian community and are very active in the home, providing special volunteers from the Armenian community are very active in the home, providing special meals and activities. In 2005, Seven Oaks started serving the Tamil Community by providing spiritual and cultural programs. Many Tamil volunteers have joined the volunteer community at Seven Oaks and assist in enhancing the life of the Tamil population at the home.
The home also has developed expertise in dementia care and serves a large population of cognitively impaired individuals. The home continues to work with a wide variety of community partners to enhance the model of care.
In 2004 the home initiated a program to serve younger adults (19-65 years) based on a social model of care. This program is realizing success and is ever expanding. Many community based partners are assisting in enhancing this program.
If you are interested in taking a guided tour of our home, please call 416-392-3500.