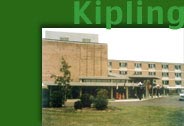 2233 Kipling Avenue
Etobicoke ON
M9W 4L3
416-392-2300

Kipling Acres serves 262 residents, not only seniors but a large number of young adults as well. First opened in 1959 and situated on 20 acres of beautiful property, its residents and staff represent the cultural diversity that makes Toronto a special city. Kipling Acres has a long tradition of providing quality care in a home-like environment and is an important part of its northern Etobicoke community.
Redevelopment of Kipling Acres
A holistic approach to resident care
Kipling Acres takes a holistic approach to delivering care and services that considers each resident's social, intellectual, physical, psychological and spiritual priorities, as well as lifestyle values and needs. An interdisciplinary team works together to help each resident maintain their maximum level of wellness.
Kipling Acres offers a full range of services including nursing, medicine, food and nutrition, administration, building services, staff education and programs and services (rehabilitation, recreation, social work, spiritual and religious care, complementary care and music and art therapy).
Kipling Acres also offers a program for young adults who need admission to long-term care, based on the social model of care. As well, the home has opened its doors to the gay community by providing a gay-positive environment. The home has developed expertise in dementia care and welcomes applications from individuals with Alzheimer disease and related dementias.
Connecting with the community
To complement the staff team, a large volunteer team is a treasured part of the Kipling Acres family. Volunteers provide a special brand of caring that keeps residents connected with the community. As well, an on-site child care centre offers residents a chance to share experiences with young children who live in the surrounding neighbourhood. Alliances with the local community and cultural groups help us provide culturally appropriate care and services.
Giving residents and families a voice
Kipling's Home Advisory Committee, made up of family members, community representatives and other volunteers, meets once a month to review and recommend programs and changes to improve the home's operations. As well, a Family Council focuses on providing a support network and communication link between residents, family members and staff.
Bringing the community in
Providing resident care is just one part of Kipling Acres. It also provides a critical service to the surrounding community. Not all seniors need to live in long-term care homes; many just need a little help to remain independent in their own homes. The Adult Day Program provides an opportunity to take part in a variety of health promotion programs, and to develop new friendships and interests. Seniors enjoy a variety of recreational and therapeutic activities, along with lunch and snacks. This program provides much-needed respite for many family members and other caregivers who are coping with the stress of caring for people with Alzheimer disease and other cognitive or physical disabilities.
Respite Care allows a short-term stay for a period of 1 to 60 days annually. This service is offered to persons whose caregiver is going on vacation, into hospital, or who may simply need some short-term relief.
If you are interested in taking a guided tour of our home, please call 416-392-2300.
For information about our home, please contact:
Gina Filice
416-392-2323
gfilice@toronto.ca