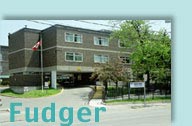 439 Sherbourne Street
Toronto ON
M4X 1K6
416-392-5252

Located in a high-density, multicultural area in downtown Toronto, Fudger House was built in 1965. In 1990, the home completed a four-year renovation project to create an environment that met the changing needs of the residents. Home to 249 residents, features include an outdoor courtyard and welcoming green space, and it is within easy access to public transportation.
Fudger House also offers one short-stay bed; this bed is for people living independently in the community who require a short period of admission for respite or supportive care.
Fudger House residents represent many of the ethno-cultural groups that make Toronto a special city. Many of these groups are supported by their local community volunteers. The predominant group is Chinese, which comprises over 20 per cent of the resident population.
Located near Toronto's gay village, Fudger House focuses on providing a gay-positive environment. The home believes that everyone we care for has the right to quality care that respects their culture, ethno-racial background, family tradition, community, language, sexual orientation, gender identity, spiritual beliefs and traditions.
Our services
We believe in an interdisciplinary approach to care, where residents are encouraged to maintain or improve their capabilities to maximize independence and quality of life. Resident satisfaction is a priority, and we strive to continually improve resident care and services.
Fudger House offers a full range of services including nursing, medicine, food and nutrition, administration, building services, staff education and programs and services (social work, recreation, rehabilitation, spiritual and religious care, complementary care and music and art therapies).
In accordance with smoking by-laws, the home is a smoke-free environment.  For residents who are "safe" smokers, there is a designated resident-only smoking room.
Involving families
Families play an important part in decisions made about their family member. We offer many opportunities for families to get involved, through resident conferences, the Residents' Council, the Advocacy Program, family meetings, Resident/Family Satisfaction Surveys and Volunteer Services.
Involving the community
Volunteers provide a vital community link for our residents. An active team of volunteers takes part in many activities at Fudger, to enhance the quality of lives of our residents. Volunteer opportunities range from one-on-one visiting to assisting with resident celebrations and outings.
Fudger House partners with other organizations in the community to enhance the lives of our residents. Local hospitals, universities and colleges, community agencies and service organizations, local churches and cultural groups are all community partners who share a commitment to our residents.
If you are interested in taking a guided tour of our home, please call 416-392-5252.