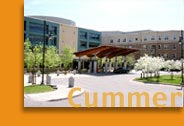 Cummer Avenue
North York ON
M2M 2E8
416-392-9500

Welcome to Cummer Lodge. Located on Cummer Avenue in North York, the 391 bed home is surrounded by 4.5 acres of landscaped property overlooking a wooded ravine.
Cummer Lodge is an accredited long term care home that offers a range of services to our residents. Our services include 24 hour nursing services, nutritional care, social work, recreation and rehabilitation services. We also offer unique services such as, Complementary Care, Art and Music therapies. Our Building Services Department maintains a clean facility as if it was their own Home.   In Home personal laundry is part of this department's service. Our Coordinator of Spiritual and Religious care ensures your needs are met through our community partnerships.
Cummer Lodge believes in a multicultural setting, where residents of diverse religions and cultures live together while respecting each other beliefs and traditions. Cummer offers a variety of culturally appropriate services for its Jewish residents who represent 25 percent of our population.
Cummer Lodge has developed a reputation for our ability to manage residents with challenging behaviours and have devoted two units in the Home for this purpose. We also have a unit dedicated for residents with medically complex needs.
We value our partnerships with our community. We work closely with our hospitals and Community Care Access Centres. We work closely with our community faith groups including Jewish Family and   Children Services.  We receive education from the Alzheimer and Huntington's Society in addition to organizations like REENA who support our residents who are developmentally delayed.
We are proud of our over 300 volunteers- young and old- who support Cummer Lodge and our residents.
Residents' needs come first
At Cummer Lodge, we believe that every resident has individual needs and must be involved in decisions regarding his or her care. We believe in a holistic approach in the care of each resident, where a multi-disciplinary team of highly trained and dedicated staff considers the physical, intellectual, emotional, social and spiritual needs of each individual, to help each resident attain the highest possible quality of life. Care of the individual is planned with the resident and family/ friend involvement to ensure it is consistent and based on resident's values, beliefs, and wishes.  Cummer Lodge also provides services to elderly people and their families in the community, through Meals-On-Wheels, Day Centre and Short Stay programs.
Preserving dignity with care
Cummer Lodge is a thriving and active community of people, places and things to do. Cummer Lodge believes that living involves more than merely sustaining life. Quality of life means considering each residents self-esteem, rights, dignity and individuality, including previous lifestyle, value systems, strengths, needs and desires.
As well as providing excellent physical care, the home offers opportunities to socialize, to mingle, to talk with other residents, to learn new skills, to develop new interests and to stay active, enabling years of happiness and productivity for our residents. 
Cummer Lodge believes in recognizing and advocating for the rights and privileges of each resident, and in supporting religious beliefs, culture, race and cognitive or physical limitations.
Cummer Lodge believes in an interdisciplinary team approach. This approach, combined with the Resident Care Planning process and specific resident programs, provides the framework for delivering care and services.
Drawing on the expertise of each discipline within Cummer is vital to enhance the quality of life of the residents. Each discipline (including nursing, medicine, nutrition, social work, occupational, physical and speech therapies, recreation and spiritual and religious care) is accountable for implementing individualized care, as well as for supporting resident programs.
Cummer Lodge believes in the continuing and meaningful involvement of the resident and his or her family in providing resident care.
If you are interested in taking a guided tour of our home, please call 416-392-9500.
For information on our Home's Adult Day Program, please contact:
Joanne Meade
416-392-9486
jmeade@toronto.ca