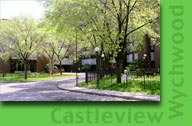 351 Christie Street
Toronto ON
M6G 3C3
416-392-5700

Castleview Wychwood Towers is long-term care home that serves 456 residents. The home is located centrally in Toronto, convenient to public transit and shopping.
Castleview provides a full range of services including nursing, medicine, dietetics, rehabilitation, recreation, social work, spiritual and religious care, complementary care, music and art therapy, laundry, housekeeping, maintenance and staff education, in a home-like environment. The home also offers short stay, convalescent care, palliative care services and a low tolerance long duration stroke rehabilitation program.
Resident-centred care
Our operating philosophy is based on the following beliefs:
We believe that we are guests in the resident's home, and the resident is the focus of all services.
We believe in respecting the uniqueness of each individual, for their personal integrity, dignity and self-esteem, and their rights to personal privacy and confidentiality.
We believe in providing a range of care and services to maximize each residents physical, social and emotional potential.
We believe that each person should be encouraged to retain or regain independence.
Our accommodations and services
Castleview Wychwood Towers features seven floors housed in two wings. The east wing is the Castleview Tower (C-side) and the west wing is the Wychwood Tower (W-side). The home serves a multi-cultural resident population. There are Japanese-Canadian, Korean and Estonian communities within the home. In addition, we have a wide diversity of residents with European and Asian backgrounds, particularly Portuguese and Hungarian.
Accommodations include semi-private (two residents per room) for 80 residents on each of five resident home areas. A sixth resident home area is a secure unit for 37 residents who are at risk of wandering. The seventh resident home area is home to 20 cognitively alert younger clients aged 19-64 who need long-term care provided on a social model. All resident units have centrally located washrooms within easy proximity of residents' rooms.
Each resident unit has its own dining room, servery and lounge areas for use by residents and visitors. As well, a private family room is located on the ground floor that can be reserved free of charge for private family gatherings. The ground floor also features an auditorium, cafeteria, worship centre, rehabilitation room, resident library, resident computer with internet access, residents' bank, beauty/barber salon, a tuck shop operated by the Castleview Wychwood Towers Volunteers, the reception area, the resident directory and a directory of departments and facilities.
In accordance with smoking by-laws, the home is a smoke-free environment. For residents who are "safe" smokers, there is a designated resident-only smoking room on the main floor.
Castleview Wychwood Towers has also achieved a respected and high level of knowledge and effectiveness in dementia care, and welcomes applications from individuals with Alzheimer disease or related dementia.
Castleview Wychwood Towers is pleased to partner with the Toronto West Stroke Network, The Aphasia Institute and local hospitals to offer a low tolerance long duration rehabilitation program at the home, for individuals who need a longer period of time to rehabilitate after a stroke prior to returning home. The program is guided by a strong rehabilitation team and skilled interdisciplinary team who have received in depth training on stroke recovery. Information is available from the Toronto Community Care Access Centre or Castleview Wychwood Towers.
Giving residents and families a voice
The home has a Residents' Council, Advocacy Program, Home Advisory Committee and Family Committee. Each of these groups provides opportunities for residents and family members to be fully participating in problem solving, and offer suggestions for programs and services.
If you are interested in taking a guided tour of our home, please call 416-392-5700.